It can be daunting to use CBD for the first time. Due to the buzz, a lot of people are first drawn to testing a CBD product, but few are aware of the sheer number of options available on the market today. What's the best method to take CBD oil for beginners?
Instead of feeling overrun by options, read our introduction to CBD oil for beginners. We've developed a list of the most popular ways to consume CBD, and we're confident you'll discover one that works best for you and your particular requirements.
CBD for Absolute beginners: Several Consumption Techniques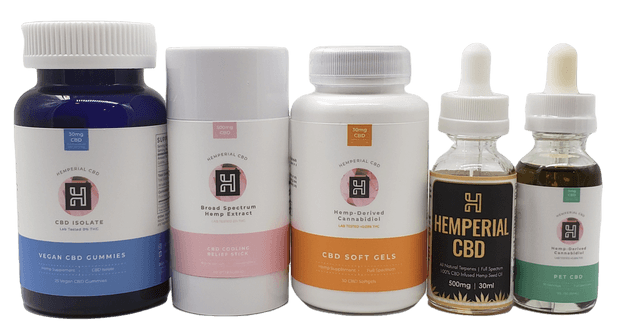 The manner you use CBD oil will depend on your objectives and lifestyle choices. CBD oil has several purposes. For instance, if you need something to assist you with unwinding, you'll want a quick-acting product that can get the job done. Consider whether you need to be discreet and whether you have particular preferences for things like taste and texture.
There is no "best way" to take CBD for beginners. Instead, you will need to determine which product is best for you personally. It could take a little trial and error, but the effort will be worthwhile in the end.
1. CBD Capsules
Capsules are one of the most popular forms of mainstream CBD products. The same kind of CBD found in a tincture is also included in CBD capsules, which can be either soft gels or pills.
The benefits of CBD capsules are numerous. The pre-measured dose eliminates the need to fiddle with a dropper to determine your milligram intake, and they are simple to ingest. Another advantage is that capsules are portable and may be taken anywhere.
But keep in mind that CBD capsules don't work as quickly as other approaches. Expect delays because the CBD in capsules is distributed gradually over a long period of time.
2. CBD Oils
The most well-liked method of ingesting cannabidiol is through a CBD oil, often known as a CBD tincture. CBD oils are simple to use for new users and continue to be a top choice for seasoned users as well. With the help of the dropper on the bottle, you can measure out an exact milligram amount of cannabidiol in oil according to your needs.
Drop the oil beneath your tongue to use a tincture (this is known as sublingual administration). This approach has a quick onset, is efficient, and has a long duration.
The drawback of tinctures and oils is that sometimes they have a strong, bitter flavor. Fortunately, oils come in a wide range of mouthwatering flavors.
3. CBD Vapes & CBD Flower
Using a vaporizer or vape pen with a pre-filled CBD cartridge, you can also vape cannabidiol. Both product categories come in a wide variety of flavors and potencies, and for some people, vaping can be a useful substitute for nicotine.
Although fairly simple and straightforward to master, vaping is not for everyone. The fact that CBD vapes act so quickly is a huge benefit. Compared to other techniques, inhaling CBD is also regarded to be the most bio-available, which means that the body can use it more effectively.
We at Hemperial CBD are aware of the demand for high-quality, practical inhalation products. Because of this, we created our special Hemp Pre-Rolls, which have 45mg of non-GMO cannabidiol.
4. CBD Gummies
Because they are pleasant and, like capsules, deliver a convenient pre-measured amount of CBD, CBD Edibles are becoming more and more popular. CBD gummies in particular are the most popular product on the market.
Like capsules, the main advantage of CBD edibles is that you don't have to fiddle around trying to determine the proper dosage. They are portable, so you can eat one anytime you want. In addition, they are delicious.
Full-spectrum CBD Gummies are widely available, but you may also buy gummies manufactured with CBD isolate. When it comes to edibles, users have a lot of options, which makes them a fun and interesting way to consume CBD.
Again, utilizing this approach will result in a slower absorption of the CBD. This approach has a lengthy reaction time since it needs to transit through the digestive system. However, as the CBD will be administered gradually, the effects might last a little while longer.
5. CBD Topicals
Using topical CBD products is a popular alternative. Products that you apply topically to the skin are called topical creams. Some topical CBD products, such as CBD lotions and moisturizers for cosmetic purposes, are made to target localized discomfort by including chemicals like menthol that is cooling.
For people who prefer to apply CBD topically rather than consume it orally, CBD salves can be a terrific option. Simply massage a small amount of cream into the skin to begin experiencing the effects as the active cannabinoids permeate the dermal layers of the skin. These products are affordable and simple to use.
Conclusions Regarding CBD Oil For Beginners
Since using CBD is a highly individualized experience, it's challenging to recommend a particular dosage for new users. The most efficient technique will differ from person to person, so you just need to figure out what works for you.
Of course, making mistakes is all part of the fun! There's no need to fear if you're a novice because the majority of CBD products are simple to use. Here at Hemperial CBD, we advise starting with a low-dose CBD oil so you can experiment with the dosage. Simply add it to your favorite hot beverage or snack if you don't like it.
Browse the Hemperial cBD online store right now to get up close and personal with a variety of the greatest CBD items on the market.