Unfortunately, the cold and flu season is well underway, and this year the healthcare sector anticipates influenza cases to be higher than usual. This makes many people's holiday plans less enjoyable. It makes one regretfully responsible enough to cancel friend gatherings and flights home. The FOMO you experience when you are sick at one of the busiest periods of the year is one of the worst things you can experience. Can using CBD for the cold and flu be a good strategy to help assist with easing some of the symptoms that come with having a cold?
The best strategies to halt the transmission of germs, according to the Centers for Disease Control and Prevention, are to stay at home if you're ill, avoid contact with people who could be ill, and take medication that has been prescribed by a doctor. There are several measures to help stop the transmission of sickness, including the flu vaccine, but what can you do if you already have a cold?
Those closest to you may naturally recommend one treatment or another to aid with the symptoms if you say that you have a cold—for example, herbal oils and floral teas. These traditional treatments, along with others, demonstrate a number of the ways that plants may provide us with therapeutic benefits against the unpleasant symptoms of illness. To really know whether it works or not, more research is necessary because a lot of it is hearsay. Recent reports suggest that the hemp plant and cannabinoids may have a good effect, even though scientific study on plant medicine is still in its infancy. Numerous studies are being conducted to see whether the cannabinoid CBD has any therapeutic value since hemp has been made legal.
Can CBD perhaps be of aid to you when you have the sniffles? In order for you to enjoy the holidays at your healthiest, we've included some friendly tips for using CBD to assist manage inflammation caused by the flu, maybe strengthen immune system support, and recover from common cold symptoms more quickly.
Inflammation Caused By The Cold And Flu
The body's anti-inflammatory reaction is triggered when a person contracts a cold or flu virus, causing symptoms including high fever, sore throat, runny nose, achy muscles, and pounding headaches. In the past, many people have used natural remedies to help ease these symptoms, such as consuming citrus fruit for vitamin C (which acts as an antioxidant) or menthol salves like Vicks to open our nasal passages. While everyone has their own special recipes for curing cold symptoms, we at Hemperial CBD also feel that using natural medicines might provide some sense of relief from the symptoms of a cold. A little relief can go a long way on your road to recovery even if the majority of natural medicines are for treating symptoms rather than viruses themselves.
Can CBD Help With Flu Symptoms?
Since there hasn't been much research on the relationship between CBD and the immune system and a lot of the science is still unclear, we can't declare with certainty that CBD is a cure for the common cold. What is known is that early research suggests that CBD and other cannabinoids may have the ability to treat several aspects of influenza, particularly the symptoms brought on by inflammation. Although there are no guarantees, anecdotal evidence suggests that CBD may be just as effective as other natural herbs in treating the common cold.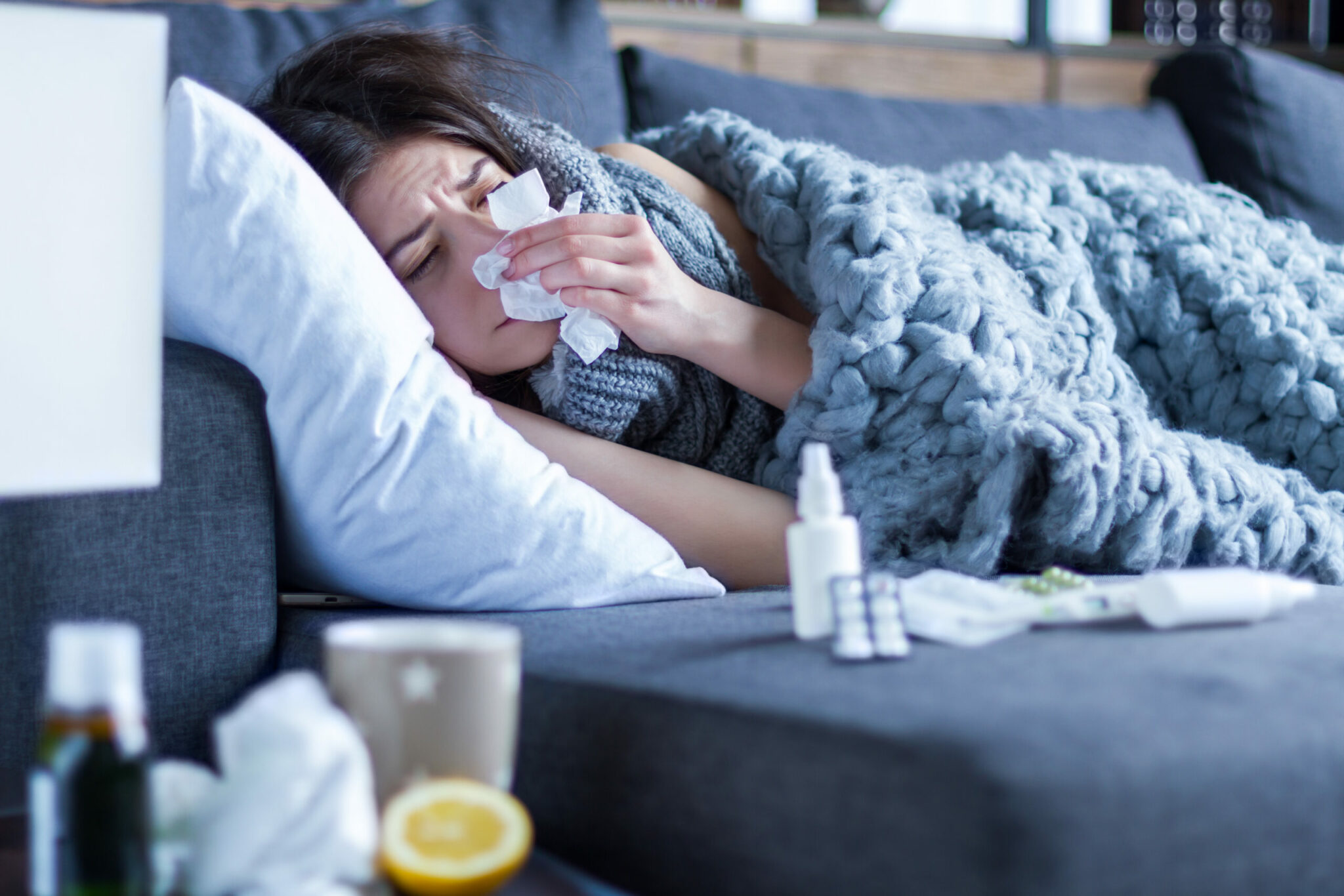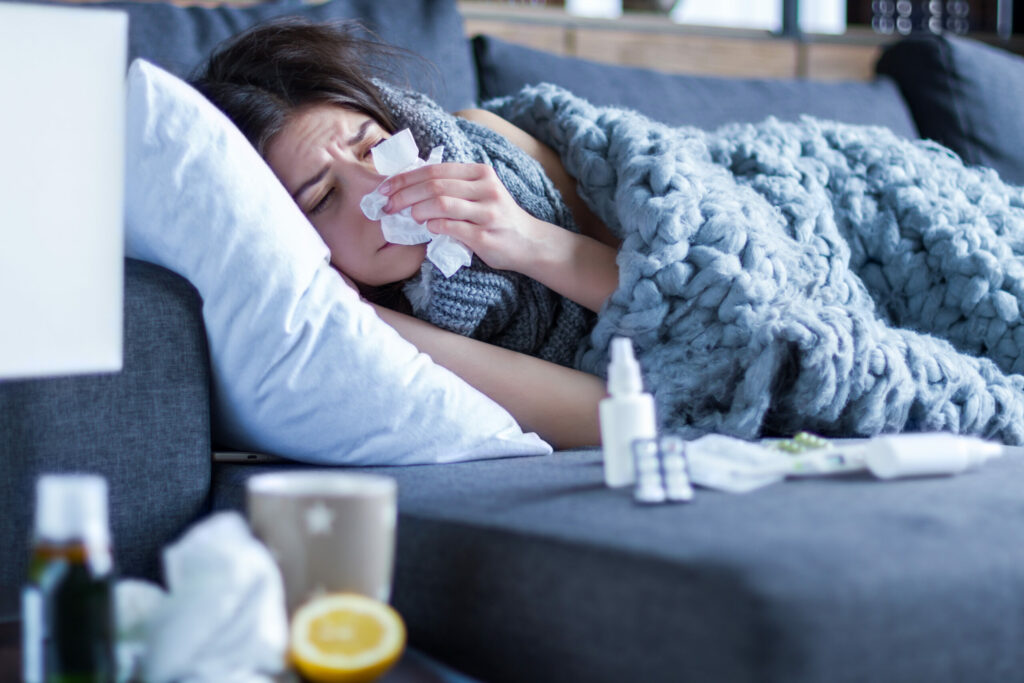 Using CBD To Treat A Cold
You might be wondering whether CBD products would be best for helping in your recovery given the growing body of evidence supporting the use of CBD for immune system support or as an anti-inflammatory. We've broken down a few options below that are full of useful ingredients and could make you feel better.
CBD & Antioxidant-rich Ingredients
Hemperial CBD edibles are made with natural components like antioxidant-rich berries and are intended to support both immune system and ECS processes. Check out CBD Gummies for a boost to your immune system.
CBD Hot Cocoa
Nothing soothes a gratingly itchy, aching throat like a warm beverage. However, you don't have to let the weather ruin your holiday plans! By adding a small amount of CBD to your favorite drinks, you may be able to reduce some of the inflammation that comes with the flu. Add THC Free High Potency CBD Oil Tincture to your hot or iced chocolate for a seasonal cure for a sore throat. Even better, before having a good night's sleep, mix some CBD, CBG, and CBN-infused Sleep Tincture into any beverage.
CBD Balms, Salves, Creams & More
The medicinal effects of cannabis are absorbed via our skin by our body's CB1 receptors without making us feel high. One of the most effective treatments for bodily pains brought on by the flu or a cold is to take a warm, relaxing bath. Warm baths are not only a fantastic method to reduce stress during the holidays, but the humid air also soothes dry coughs and runny noses. A hot bath works as a humidifier as well, which relieves sinus congestion. Add a few drops of CBD oil to the bath for an extra dose of aromatherapy to soak those symptoms away. Try a nourishing moisturizer like CBD Lotion to gently relieve sore muscles after your bath to continue the comfort.
A Sound Night's Sleep
Although the typical cold and flu are unavoidable, having CBD in your "toolshed" may help you feel a little bit better on your own. Discover a variety of high-potency products that have undergone independent testing and are designed to work with your body to help you feel your best all year long.