A thrilling time of year that also adds to tension and anxiety is the upcoming holiday season. A little relaxing assistance would be helpful around the holidays for the many people who experience this seasonal stress, have difficulties sleeping, and need it. For those looking for products to help keep calm can CBD for Anxiety be a viable option?
We're reviewing the top CBD products for anxiety and sharing with you a few of the essential elements we utilize in our formulas that provide the most calming assistance in order to assist you in creating a meaningful CBD gift basket to help your loved ones find more serenity this holiday season.
Holiday gift suggestions for those who experience stress or anxiety, such the CBD Gummies for Anxiety! (We'll display the top ones for sale.)
Gift basket suggestions for stress and anxiety: We'll offer a few add-on suggestions for your CBD gift baskets.
Three essential CBD "helpers" that are ideal for presents with an anxiety or stress theme are: Ashwagandha extract, CBD with CBN, and relaxing botanicals all look fantastic in a gift basket!
Stress During Seasons Is Common
This time of year, seasonal stress and worry are widespread. If you've just ended a relationship or lost a loved one, emotional grief may also flare up during holiday celebrations. But other pressures add to the difficulties associated with the holidays. Business owners worry about the upcoming tax season or the final quarter's sales as the year comes to a close. In order to pay for everything, parents put on a pleasant face and brave the mall, toy stores, and bills. There are travel plans, meetings with relatives and friends, as well as a lot of food and celebrations.
It's acceptable if you or a loved one doesn't feel like yourself at all during the event. It's crucial to keep in mind that seasonal tension and worry are just fleeting, and that it's perfectly normal to experience them. The good news is that CBD can make your holiday season happier and more balanced for you and your loved ones.
CBD for Anxiety: Can it help?
People can feel more at ease and relaxed with CBD. Get ahead of the holiday season with a plan for calm – CBD items that not only help you get through the additional hustle and bustle but also make wonderful gifts for anyone who struggles with seasonal stress or poor sleep. If you or a loved one needs assistance with this.
Give them CBD soothing presents for anxiety to show them how much you care during the cozy holiday season.
Pro tip: Type "calm" into the search bar on the Hemperial CBD website to get this incredible selection of relaxing CBD products for the whole family, even your dogs!
CBD and CBN are our top choice for calming gift suggestions.
Most people are aware that adding THC to full spectrum CBD products results in extremely relaxing effects, but there is also a silent partner at work who provides further calming support. CBD products that also contain CBN can be the ideal option for gifts that promote tranquility.
To achieve the most relaxing CBD + CBN combination, use full spectrum. This is so that the THC can support and help the CBD and CBN's and other natural positive effects.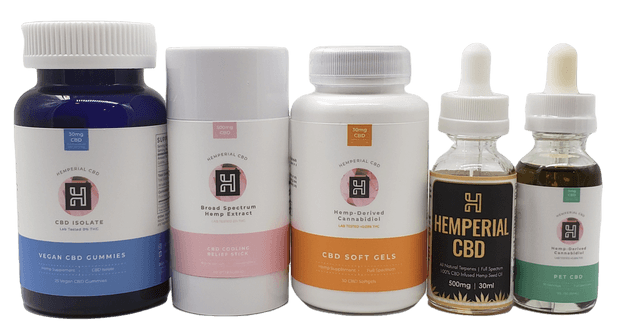 What Is CBN?
The Cannabis sativa plant has around 100 distinct cannabinoids. Tetrahydrocannabinol (THC) and cannabidiol (CBD) are probably the two that you are most familiar with, but there are other compounds that are essential for providing soothing assistance. The entourage effect, which is a fancy way of explaining that these cannabinoids perform better together, is created when they are combined.
One of these less well-known cannabinoids is CBN, and because of its relaxing effects, it is a great addition to our full-spectrum and broad-spectrum tincture compositions.
The tranquil CBD and CBN combo is a great pick if you're looking for gift suggestions for people who struggle with anxiety or situational stress. What sets CBN apart?
Cannabinol is a phytocannabinoid that is CBN. In order to obtain the greatest benefit from your CBD products, it helps to boost the entourage effect.
Although CBN, which is produced from decarboxylated THC, is not fully non-psychoactive, it has just one-fourth the potency of THC.
Because THC transforms into CBN as cannabis ages, the presence of CBN is a sign that the plant is mature.
Similar to how CBD helps our bodies, CBN also works with our endocannabinoid system.
Because of its calming effects, CBN is frequently referred to as the "sleepy cannabinoid".
What CBD Products Include CBN?
Fortunately, CBN is present in many of our products as a result of its inclusion in the full spectrum and broad spectrum CBD formulations we created to provide you with the highest quality CBD. If either of the following is said about our product, then CBN is present:
Superior Broad Spectrum formula, or simply Broad Spectrum
Superior Full Spectrum formula, or simply Full Spectrum
Getting Your Gift Ready
Start with a main item or small group of items that contain both CBD and CBN, then include a few throw-ins to complete the theme of your basket. You can create a present basket out of your soothing gift set, wrap it in a tiny box or parcel, or put it in a festive gift bag with lots of ribbons and streamers.
In addition to making your gift of tranquility, it's crucial to pick the appropriate calming materials. Start with the CBD tincture, which is the cornerstone of CBD products. But which one ought to be picked out as a gift? Here is an overview:
Your first choice is whether or not you want THC to be a part of your gift. Select broad spectrum CBD oil if you are unsure whether they will want the THC or not. Choose full spectrum CBD oil if THC is acceptable. CBN is an additional benefit in both full spectrum and broad spectrum Hemperial CBD products.
Next, pick a flavor you believe the recipient will enjoy. Both recipes contain various flavors.
Lastly, decide on a strength depending on their needs and body size. If you want to help them through their trip past the initial few weeks and they have never used CBD before, it is acceptable to choose the lowest strength and the strength up. That would be a fantastic approach to get them going and give them a taste of the long-lasting tranquility that CBD has to offer.
Put your goods and enjoyable extras (such as soft socks, holiday decorations, and calming items like a roller of lavender essential oils) into your basket, dress it up with some natural confetti or ribbon, and include a personalized note to let your loved one know you care enough to make them feel at ease.
Botanical CBD products that are calming
We provide a selection of stress-relieving CBD choices to help you create a botanical cornucopia of calm. We've shown you our two soothing gummy alternatives, which include additional ashwagandha for quiet, as well as the CBD tinctures that bring in that consistent CBD + CBN team for stress support.
Botanical additions, however, can also assist you and your loved ones achieve the peaceful equilibrium you require throughout this holiday season. You'll know there are additional carefully chosen botanical elements that assist calm if you read the phrase "Special herbal blend" on one of our products, like the Calming CBD Gummies.
Lemon Balm Extract – From the herbaceous plant in the mint family, Melissa officinalis, lemon balm is known for its calming and relaxing effects.
Chamomile Extract – From the flowering Matricaria recuita in the Asteraceae family (the daisies), chamomile is a popular go-to for calm and soothing effects. Chamomile tea bags also make a nice addition to your calming gift baskets.
L-Theanine – This is an amino acid found in tea and in some mushrooms. It is believed to support mental function, making it a perfect selection for our calming formulations.
Valerian Extract – Valerian root extract comes from a tall flowering grassland plant and has relaxing properties that make it an attractive addition to calming CBD formulas.
GABA – GABA (gamma-aminobutyric acid) is a neurotransmitter that blocks impulses between nerve cells in the brain. It is used to improve mood and to help with stress and sleep.
Gift Baskets for Anxiety: Personalize Your Purchase
Any present is truly made exceptional by the thought and consideration that went into it. It's all about the presentation now to show your loved one you care, after you've spent a lot of time selecting the ideal CBD products for tranquility.
Include relaxing touches like scented candles, a favorite book or diary, or some comfortable clothes for leisure that they may look forward to. Also include self-care supplies. Here are a few more ideas to personalize your gifts.
Advice on Choosing the Best Gifts for Anxiety
Add some glitz with a pretty gift basket.
Add products that support a theme, like as a relaxing bath night, wine-themed gifts with wine glasses and jammies for watching Netflix, or a self-care basket filled with indulgent supplies (you can never have too many face masks and changing-of-the-season nail polishes, after all). These CBD tinctures go well with a gift of shaving or athletic apparel.
For your CBD present, choose calming hues like blues, greens, gentle pinks, or traditional white together with shiny gold or silver.
Finish it off with a handmade card that is tailored for them or a card that has their name in calligraphy.
Start with thoughtfulness when choosing calming gifts for anxiety.
Gifts that help with stress and anxiety, like CBD gummies for anxiety, are a thoughtful way to let your loved ones know you're concerned about how they're feeling. Everyone wants to see their loved ones enjoy happy, healthy lives and experience care and support. Gifting CBD products can make it easier for the significant person in your life to start prioritizing their health, wellbeing, sleep, and stress management.
Thank you for reading today, and be sure to subscribe to our blog for more fantastic advice on how to live a CBD-inspired wellness lifestyle. Merry Christmas!