Are you looking for the easiest way to buy CBD oil in Wyoming? Your questions are fully answered in this article. We'll go over Wyoming's regulations on various cannabis strains and demonstrate where and how to get high-quality CBD goods both locally and online.
By 2020, it is predicted that CBD sales would reach $1.15 billion. Anxiety, discomfort, inflammation, seizures, poor stress management, and many other symptoms are among the ones that people use CBD oils and other products to treat.
Although Wyoming has severe marijuana restrictions, you can still purchase legal CBD products there.
You must be informed of the local cannabis laws if you want to ensure that you buy the proper product from a supplier that has received governmental approval.
Let's begin by asking a crucial question.
Is CBD oil legal to have in Wyoming?
In Wyoming, CBD oil is acceptable as long as it has a THC content of 0.3% or less.
This means that the only way to find CBD products that are legal to purchase in Wyoming is to hunt for ones made from hemp.
As you may already be aware, hemp and marijuana both yield CBD that may be extracted. They share the same plant family, Cannabis sativa L., but have distinct chemical compositions.
Marijuana has a high THC content by nature, so CBD oils derived from this variety of cannabis can also cause intoxication in addition to offering other advantages of cannabinoids.
Contrarily, hemp has only minute levels of THC (up to 0.3%), making it unable to produce the euphoric high.
Check out how Wyoming's laws handle both types of CBD.
CBD Oil from Marijuana in Wyoming
Despite Wyoming's proximity to Colorado, the state with the most lenient marijuana laws, marijuana remains illegal in Wyoming for all practical purposes. Possession of marijuana carries serious consequences in the state. In actuality, being charged with a crime does not require that you have marijuana on you. Simply being intoxicated can result in a $750 fine and up to six months in jail.
A misdemeanor carrying less than three ounces of marijuana carries a $1000 fine and a 12-month jail sentence. Any additional crime carries a potential fine of $5,000 and a five-year jail sentence. Higher amounts are considered felonies, punishable by five years in prison and a hefty $10,000 fine.
Can Wyoming doctors prescribe CBD oil?
Wyoming's medical marijuana program for epileptics is very constrained. House Bill 32 was introduced by the state government in 2015, allowing patients with uncontrollable epilepsy to consume CBD oil to treat their condition as long as the extract has a minimum CBD concentration of 5% and a maximum THC level of 0.3%.
The program isn't actually in existence because Wyoming hasn't established any regulations governing the growth, manufacture, and distribution of marijuana and its derivatives. Even worse, those who use marijuana CBD oil to address a medical issue are not legally protected.
What role does CBD from hemp play in Wyoming's cannabis regulations?
Wyoming hemp CBD oil
Hemp is legal in all 50 states, unlike marijuana. Under the 2018 Farm Bill, the US federal government approved its legalization. Hemp was previously included in the same narcotic category as heroin and LSD before the new law. It can now be grown as an agricultural product for use in making goods including paper, textiles, fuel, building materials, food, and health supplements like CBD oil.
In Wyoming, any CBD oils that have a THC content of less than 0.3% are accepted.
Shopping for CBD is, however, very risky due to the market's relative youth and rapid expansion.
Don't worry; there are certain precautions you may take in Wyoming if you want to stay away from fly-by-night businesses.
Learn More: CBD vs THC: What's the difference between CBD and THC?
In Wyoming, where can I buy CBD oil?
The bad news is that there aren't many specialist CBD oil stores in Wyoming; instead, the majority of the items are sold over the counter in nearby head shops, vape shops, and pharmacies.
If you want to save time and money, we advise placing your order with a trusted online retailer.
We will explain why below:
Benefits of Purchasing CBD Online
Online CBD shopping offers numerous advantages.
You're working with people whose entire company is focused on CBD, to start with. Online merchants are frequently industry specialists who can respond to your inquiries or guide you toward the best product for your particular needs.
You'll also see that these goods are virtually always less priced when you shop for CBD online than when you do so locally. Because there is no middleman involved with online shops, they can provide choices for large purchases, discounts, coupon codes, or loyalty programs that you definitely won't find in physical stores.
For instance, you can enroll in our loyalty program at Hemperial CBD and receive unique crowns for each purchase. Spending these crowns on your subsequent purchase will allow you to try something new or save money on your favorite products.
Finally, online retailers provide hundreds of various CBD products. To name a few, CBD is offered in oils, tinctures, creams, lotions, concentrates, sweets, capsules, and pet treats. On the other hand, local stores might just carry one or two kinds of CBD.
Where Can Wyoming Residents Find High-Quality CBD Products?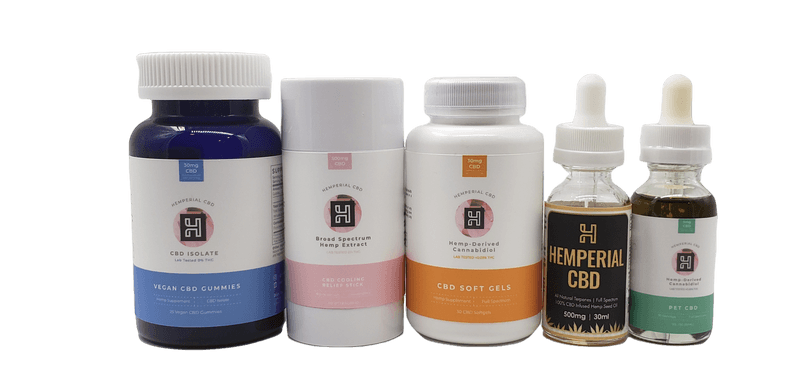 As previously indicated, there is no regulation of the CBD industry's manufacturing and labeling practices. This means that businesses may market goods with the name "CBD" even though they have little or no CBD in them. It goes without saying that a lot of these goods are incredibly risky and untested.
What you can do to make sure you always get the appropriate product is as follows:
Purchase only from businesses that put their items through testing in accredited labs. To ensure that the product's CBD content matches its claimed potency, independent labs will examine the product's CBD content. Additionally, they will look for any unwelcome or potentially harmful compounds. Reputable businesses should make the lab test results available upon request or display them on their websites.
Select CBD that has been CO2-extracted. The best way to make CBD oils is through CO2 extraction because it doesn't need additional heat or solvents. Without endangering the environment or endangering your health, it produces pure and reliably strong extracts. The use of pricey equipment to do CO2 extraction is another indication of a company's commitment to high-quality production.
Search for full-spectrum products. Full-spectrum CBD, in contrast to isolate-based extracts, is produced using the entire plant, capturing a variety of advantageous substances like terpenes, flavonoids, and minor cannabinoids. These substances not only offer their own special advantages but also enhance the effects of CBD.
Organic is always preferable. Because they are bioaccumulators, hemp plants can take in any substance from their surroundings, therefore it's crucial to ensure that they only receive healthy ones. Wyoming's top CBD oil is produced from organic, non-GMO hemp.
Avoid businesses that promote CBD as a miracle cure. Although CBD is a very adaptable substance that can enhance your daily life in a natural and safe way, it won't treat cancer or mend broken bones. Such statements made by a firm about its products are immediately suspect.
At Hemperial CBD, we use organic hemp produced by our knowledgeable Colorado farmers to create our products. To guarantee consistency in potency and purity throughout every batch, the whole Hemperial CBD product line is made with supercritical CO2. Before we put any of our products on the market, they are all put through a thorough testing process in a licensed laboratory to determine their CBD concentration and any potential impurities. Full-spectrum CBD oil, softgel capsules, THC-free candies, and two different types of topicals are all options.
In search of a risk-free approach to test our products? A 30-day money-back guarantee is provided by us!
Key Lessons for Purchasing CBD Oil in Wyoming
To be quite honest, Wyoming isn't the best location to get CBD oil. The state has among of the strictest marijuana restrictions, and nothing appears to be about to change. However, there are a few reliable locations you may go to if you want to purchase things made from hemp.
Right now, shopping online is the ideal approach to locate high-quality CBD goods at affordable prices. You'll save time and money by doing this.
Regardless of how you choose to get CBD oil in Wyoming, always do your homework on any company before giving them your money. There are many excellent businesses providing high-quality goods, but there are also many dubious vendors selling substandard goods.